About Us
Walls Irrigation, Inc., is a family owned business that sells, installs and services agricultural irrigation systems. We are dedicated to providing Delmarva's farmers with the prompt, efficient service they need to persevere through the challenges faced in the agribusiness industry.
Founded in 1996 on Bob Walls' back porch, the company has been the #1 Reinke Dealer in the Southeast Territory and a Reinke Top 10 Dealer for North America since 1999. Walls Irrigation has been awarded the Reinke Gold Dealer each year since 2002 and is recognized as a Reinke Platinum PLUS (Proven Leaders in Unmatched Service) Service Dealer.
In addition to agriculture irrigation systems, Walls Irrigation offers sales and services for the following, BorderMagic Concrete Landscape Edging, Harman Pellet Stoves, Vermont Castings Wood and Gas Stoves, Traeger Grills, Timber Stoves by Wood Pellet Product Patio Heaters and Val 6 Heaters.
An additional product line to Walls Irrigation is Sioux Steel Company Farm Storage Grain Bins. Protect your grain from all weather conditions. The strong roof stands up to northern snow loads and high winds. Sioux Grain Systems keep grain fresh and in condition for years.
Service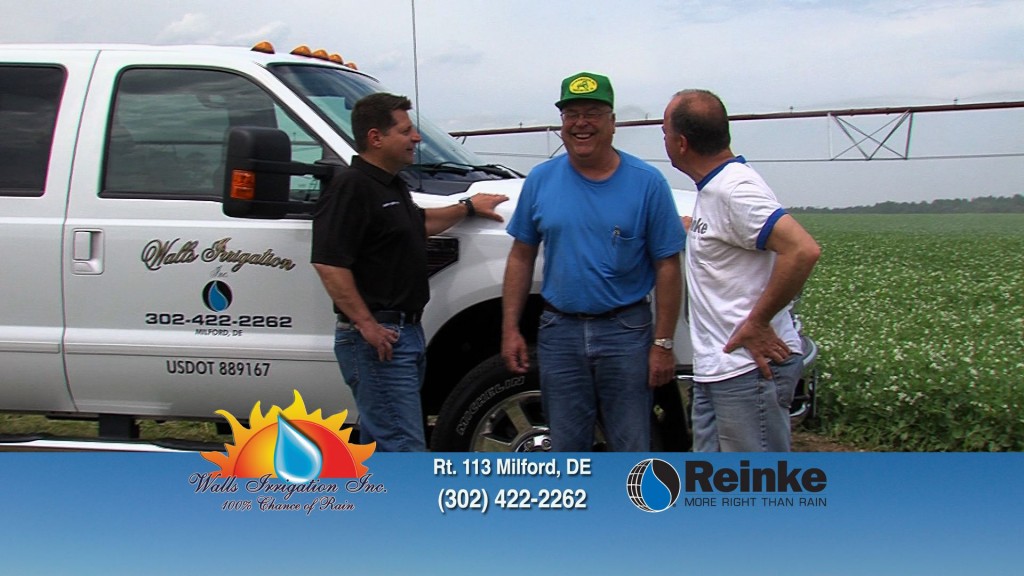 President, Bobby Walls, left and Vice President of Sales, Rob Chambers, right, assist a customer
Walls Irrigation is a Reinke Platinum PLUS (Proven Leaders in Unmatched Service) Service Dealer, recognized by Reinke for the outstanding service provided to customers. We sell, install, and service Reinke irrigation systems in our agricultural community. Walls Irrigation is one of Reinke's Top Ten Dealers in North America – and has maintained outstanding customer service during the growth to Top Ten.
Through technology and innovation, we help farmers maximize their crop potential through custom designed systems that meet the specific needs of their fields.
Irrigation Services
Custom design Reinke agricultural irrigation systems for farmers and land owners
Install, maintain, and service Reinke and all other mechanized irrigation systems
Award-winning service team certified in all aspects of service and technology for pivot irrigation